QUICK FIX FOR MELT DOWN MOMENTS
As a coach I've seen a lot of trends in people's needs over the years. As you can imagine thanks to the pandemic it's been increasingly around supporting teams and businesses around agility, performance and productivity but fast on their heels are overwhelm, overloaded and overworked – or as I call it The 3 O's. Burn out is no laughing matter costing business billions every year.
Mental health costs UK employers up to £45bn a year and this figure has risen 16% since 2016, costing an extra £6bn a year. This is made up of absence costs of around £7bn, presenteeism costs ranging from about £27bn to £29bn and turnover costs of around £9bn.

Accountancy Daily
I share lots of strategies to overcome these issues and my clients see results fast, but if you are in the midst of a very tough time and are ready to scream, kick the cat (please don't kick your cat) drink the wine, eat the chocolate, swear and quit your job for a new life on a desert island here's my strategy to help you stack up the support you need.
The acronym should help you remember it;
Stop and step away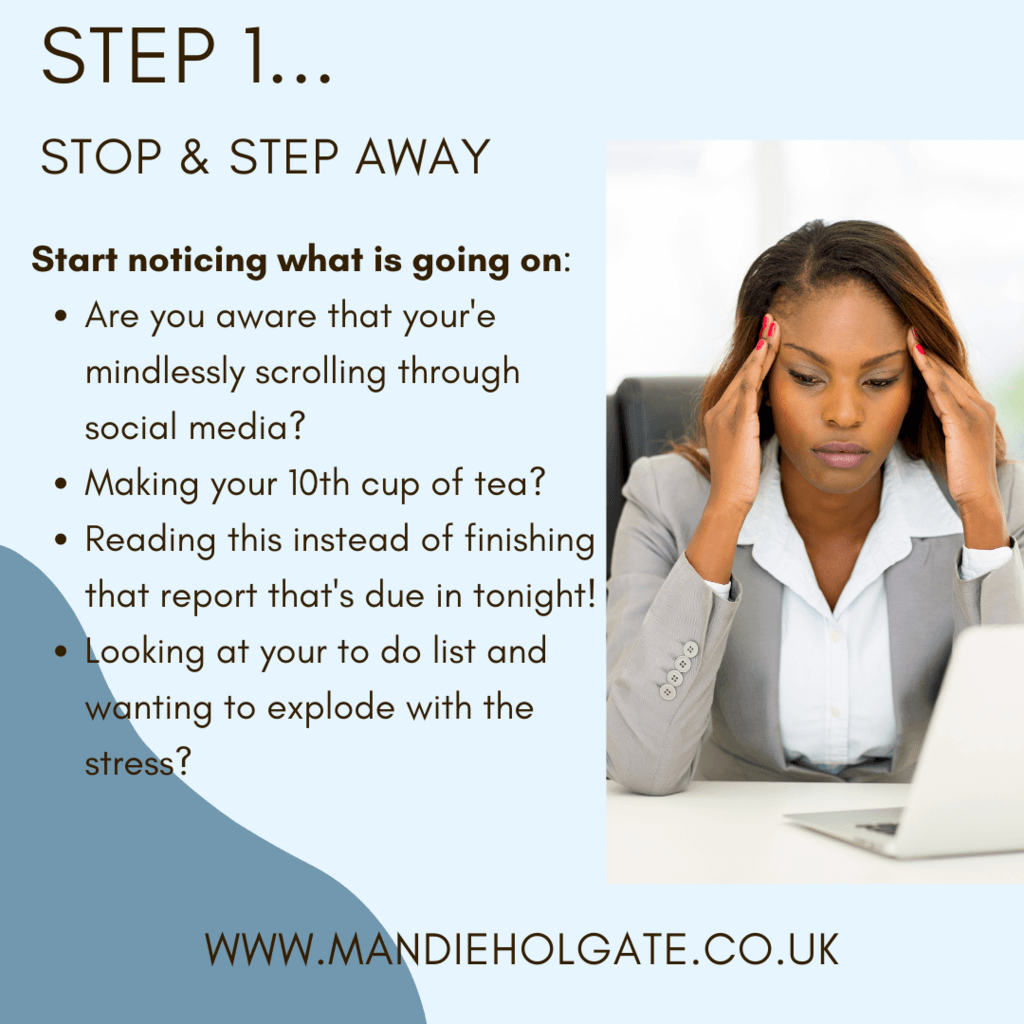 To do this you need to start noticing what is going on.
Are you aware that you are mindlessly scrolling through social media?
Making your 10th cup of tea?
Reading this blog article instead of finishing that report that's due in tonight!
Looking at your to do list and wanting to explode with the stress?
There is a wealth of evidence that suggest powering on through is not the answer. No matter how looming your deadline, step away. If you can't face stepping away physically step away emotionally. Look away from your computer screen/desk. But please stop right now!
Take a breath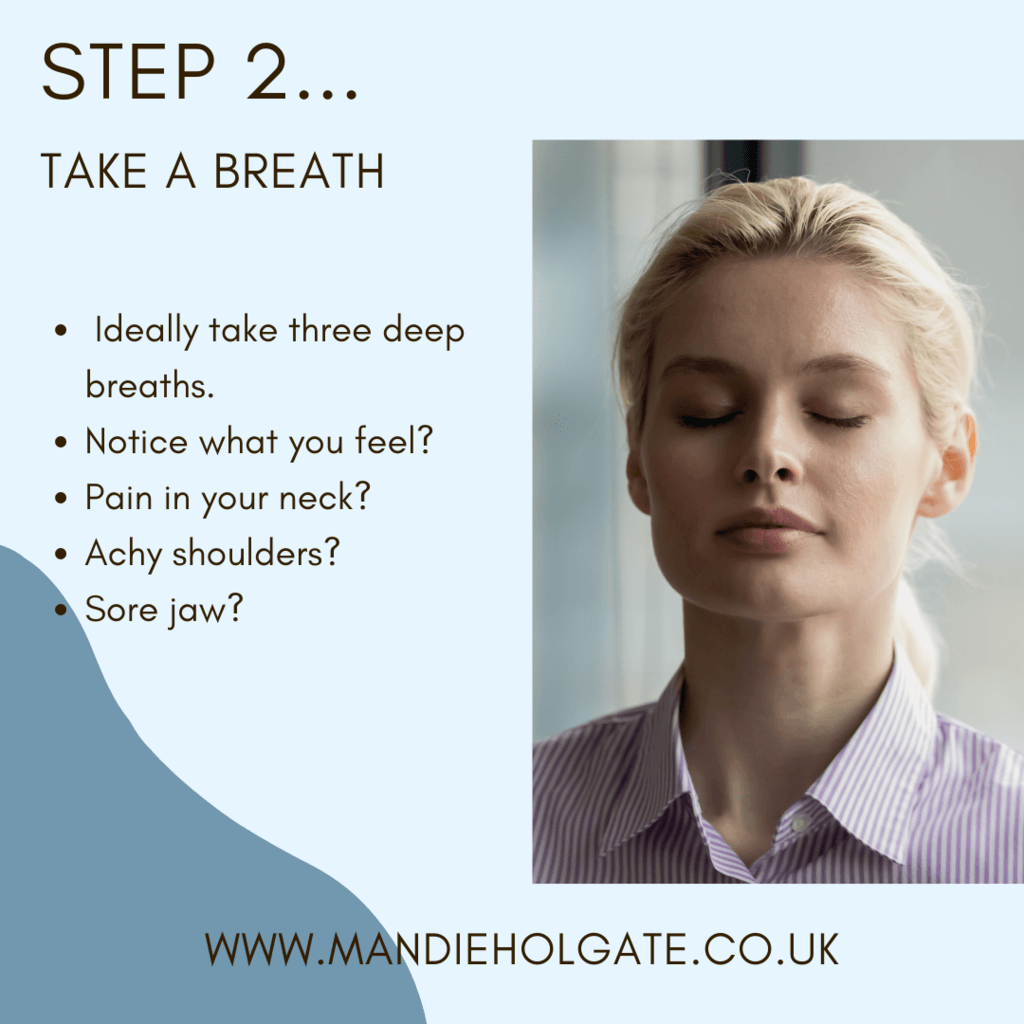 Ideally take three. Nice deep ones. And then notice what you feel? Pain in your neck? Achy shoulders?
I often think that people experience pain in their body that matches up to their words. It may sound bonkers but sometimes when I'm with a client I can feel their pain (even if they've not said anything – it can feel like chains around my chest – which then release when we work out what they need to do. It can feel like a clenched jaw – when I told a client I felt like they were clenching their jaw, I added "Can I ask do you feel like you've not said something you want to say to someone and it's going over and over in your head?" They said "Yes, how did you know!" it was a huge eureka moment.). Have you noticed how people say "It was gutting" they usually have stomach issues too!
Look to notice (not do anything about) how your body feels, what emotions are running through your mind, what thoughts are whizzing around? This is a form of mediation. As I tell my clients you don't need to sit cross legged on the mountains of Nepal saying "Om" to benefit from mindfulness and mediation. These tools enable your brain to get a moments peace to process everything that has been going on – it's why stepping away even for 5 minutes is so good for you.
I also tell clients that the first thing teams like the SAS do before a big operation is….stop and breathe. Not go over the equipment for the 20th time, or scope the scene, but stop and breathe – they use the box method. 8,8,8,8 – hold your breath for 8 seconds, release your breathe for 8 seconds, then hold your breath for another 8 seconds and lastly inhale for 8 seconds (when you start you may not be able to do 8 seconds) and there's a lot of science to explain why the box breathing method works.
Assess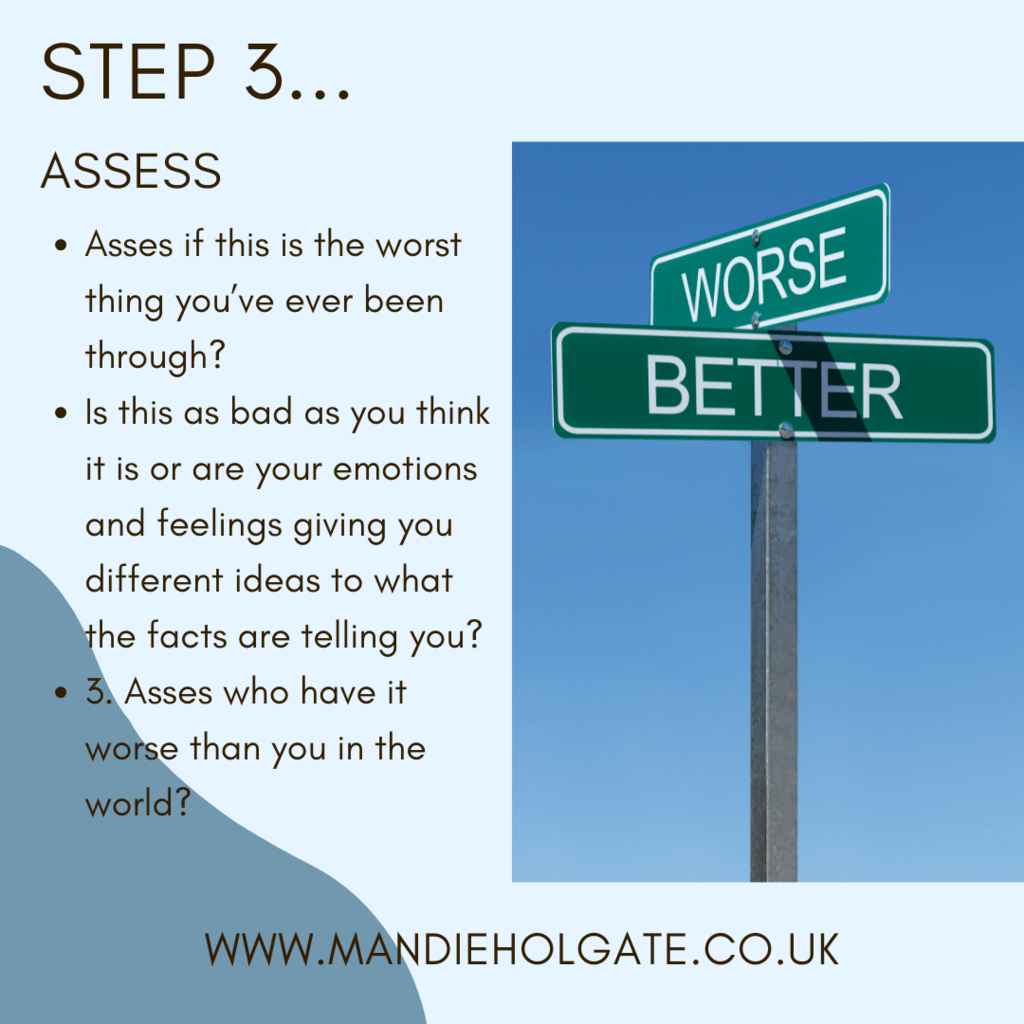 This means that you assess the situation. Is it as bad as you think it is?
This is called catastrophising, where you blow things out of proportion. It's one of the reasons I can help people to perform better, reduce their stress, overwhelm, and improve their productivity in just 2 hours because we start by adjusting their perception. So, assess in 3 ways (1 is not going to be for everyone).
1. Asses if this is the worst thing you've ever been through?
2. Then assess if this is a perceived tragic, disastrous, appalling, epic failure – or are your emotions and feelings giving you different ideas to what the facts are telling you? For instance, I had a client who felt like they were failing on a massive level.
They weren't. They were doing amazingly well and growing an amazing company and team around them, what they were doing was assuming they would make a mistake and let someone down and thus fail – imagining something that hadn't even happened!
3. (This is the one that's not for everyone.) Asses who have it worse than you in the world? Think of the people who are suffering from some devastating weather related incident, facing war or persecution. Is what you experiencing worse than this?
What these three things do is enable you to move the scale of how bad the situation is. If you've read my books, you will know I talk about the What if game – where you imagine what if it was disastrous, what if it was amazing and what if it was beyond words bonkers. Adjust your perception before you move on to the next step.
Change the chemical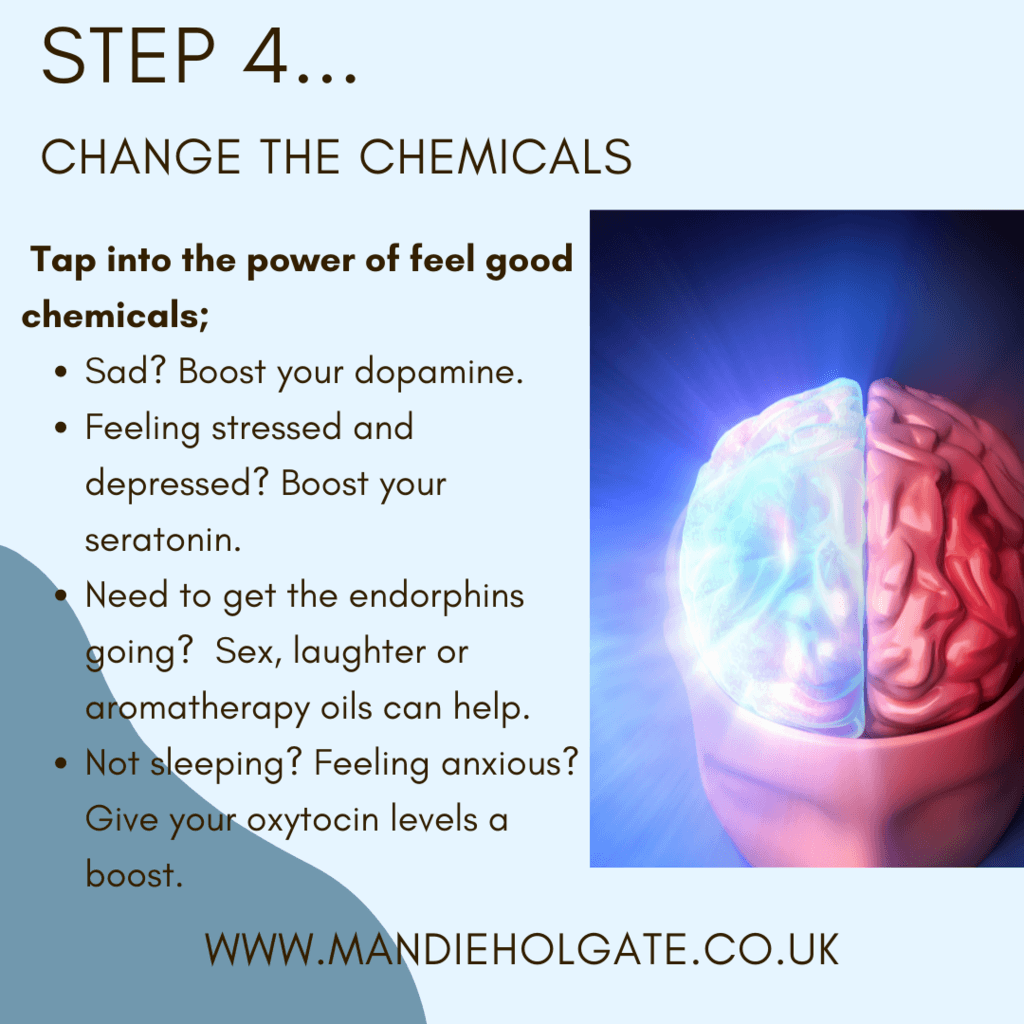 Our bodies come with a lot of cool kit but alas many don't read the manual so miss out on using it. The chemicals in your brain don't just spurt off whenever they fancy, they also can be turned on like a tap.
Need some happiness? Eat some cheese, tick something off your to do list, give someone a helping hand. They all help your body release dopamine. (1)
Feeling stressed and depressed? Get out in the sunshine, dark and dreary day? Reach for the complex carbs like greens or a banana or ask someone to give you a massage to help boost your serotonin levels. (2)
Need to get the endorphins going? (Not to be confused with dolphins – terrible joke, but I've been known to do that joke in front of large audiences – shall I apologise now?) Sex works a treat, but then so does laughter or aromatherapy oils – some of these are obviously far more appropriate for the workplace than others!
Not sleeping enough or feeling anxious? Give your oxytocin levels a boost by stroking your pet (not sure it would work with your goldfish, sorry) or practice some self-love. Although be cautious with this one, while increasing oxycontin can be good for you it can also lead to a feeling of them and us as latest research suggests it amplifies relationships. So, if you have people that aren't seen as "in your crowd" it can make that worse. Other evidence suggests it could actually damage relationships. (3)
And the final step is K – for Kind, Kudos and Knowledge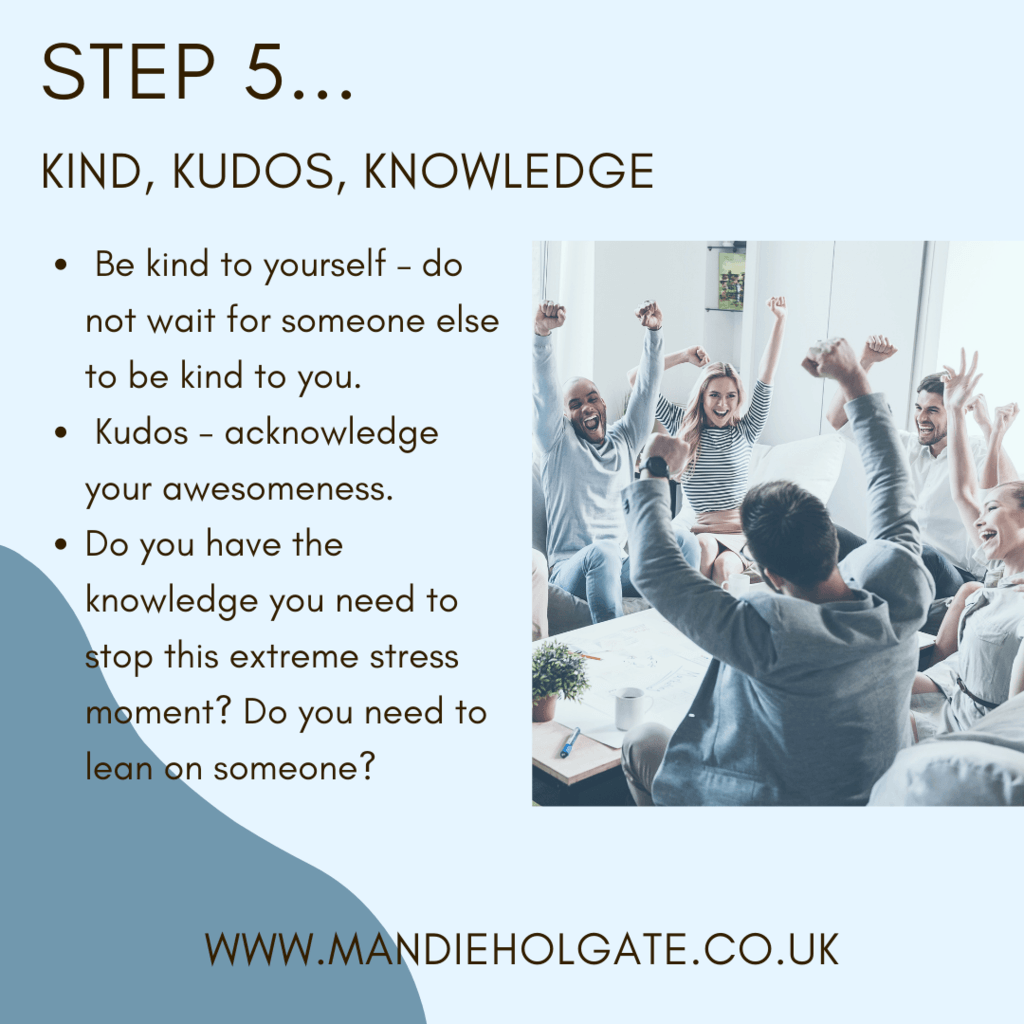 Kind – as in be kind to yourself – do not wait for someone else to be kind to you or to notice your distress. True happiness has been proven to be an inside job so rely on you. What could you do to be kind to yourself?
Kudos – often in times of high stress people become very hard on themselves and don't acknowledge their awesomeness. If you've attended one of my training days or read my books (or taking my confidence course) you will know I encourage all humans to write a "Why I'm awesome" list. This is a 2-page handwritten (very important – there's science in my reasoning!) A4 document on why you are awesome. Some will find that easy and some will post to my mastermind group how much they hate me. That's okay, I will help you find and appreciate your awesomeness. It's so essential for a lot of success, performance, confidence, productivity, communication and happiness issues.
And lastly knowledge – do you have the knowledge you need to stop this extreme stress moment? Do you need to lean on someone? You know you can lean on me, right? I'm not joking. I have people from all around the world message me every week and I do my best to reply to every single one sharing advice, kindness and support. Who will give you the knowledge you need? Is it a factual thing you need or just a reminder of your awesomeness?
Don't forget
This will take a few attempts to make it stick fast as a positive new response to high stress moments. Stick with it so that you can stack up the things that will support you when you are feeling overwhelmed and overloaded. Your brain is incredibly clever and will happily go down a new path with a little practice. I can get myself into a calm state and feel like I'm on the beach in the South of France in about half a second I've been doing this for so long. So stick with it!
And lastly if you need something to work even faster, try the half smile. Right now let your jaw drop slightly. Feel it slackening. Now turn just the very corners of your mouth up. How does that make you feel?
As always let me know how you get on, feel free to share and tag me, get in touch any time and if you want support to work on this post to my mastermind group where I will be happy to motivate, inspire and empower you. Learn more here.
(1) https://www.bbcgoodfood.com/howto/guide/what-dopamine-diet
(2) https://www.health.harvard.edu/mind-and-mood/serotonin-the-natural-mood-booster
(3) https://www.psycom.net/oxytocin
Let me know how you get on.