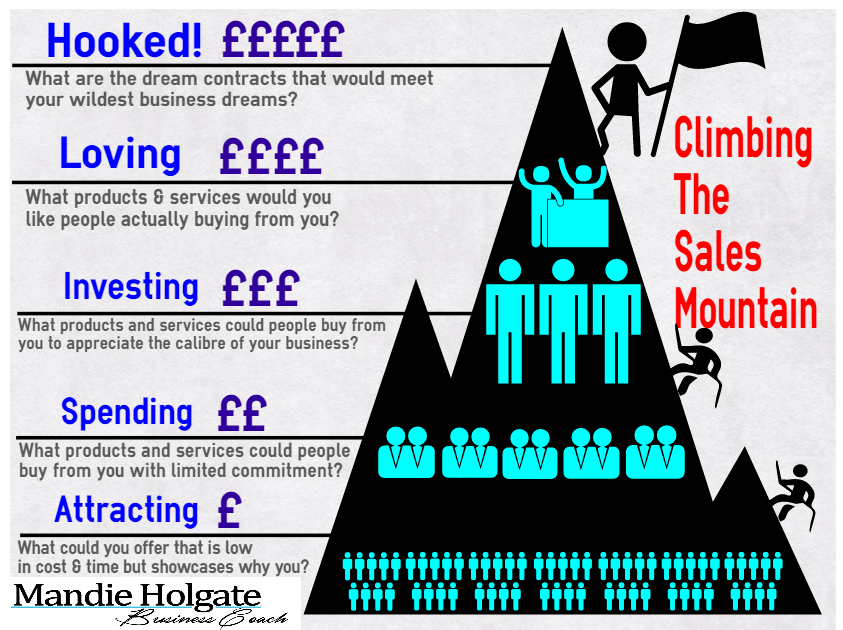 Mandie's Sales Mountain
People often ask me "How can we get people to spend more with us?" and my Sales Mountain is a great way to help people to climb your sales mountain.
Get this right and people don't just buy once, they become brand ambassadors (telling all their friends!) And it enables you to up sell, side sell and re sell – with less effort!
Take the time to answer the questions on each level of Mandie's Sales Mountain and this information can be then transferred to your marketing strategy and drives the content you create too.
Often people have great ideas but limited connection between everything. The more powerful and succinct your message, the easier it is for customers to see why they should buy from you!
And if you really want to put this into action in your business – check out my Marketing Production Line – I'm really pleased with the calibre of results my online course clients get. What could it do for you? Learn more here
Want to put this into action and test and measure the quality of your findings? The Insiders could be a great way to ensure you take action, stay focused and learn what you need to. It's only £5 a month and it's my Confidential Mastermind Group – and the Insiders are a truly awesome group of business owners. Do join us! Learn more here.