Your Marketing Production Line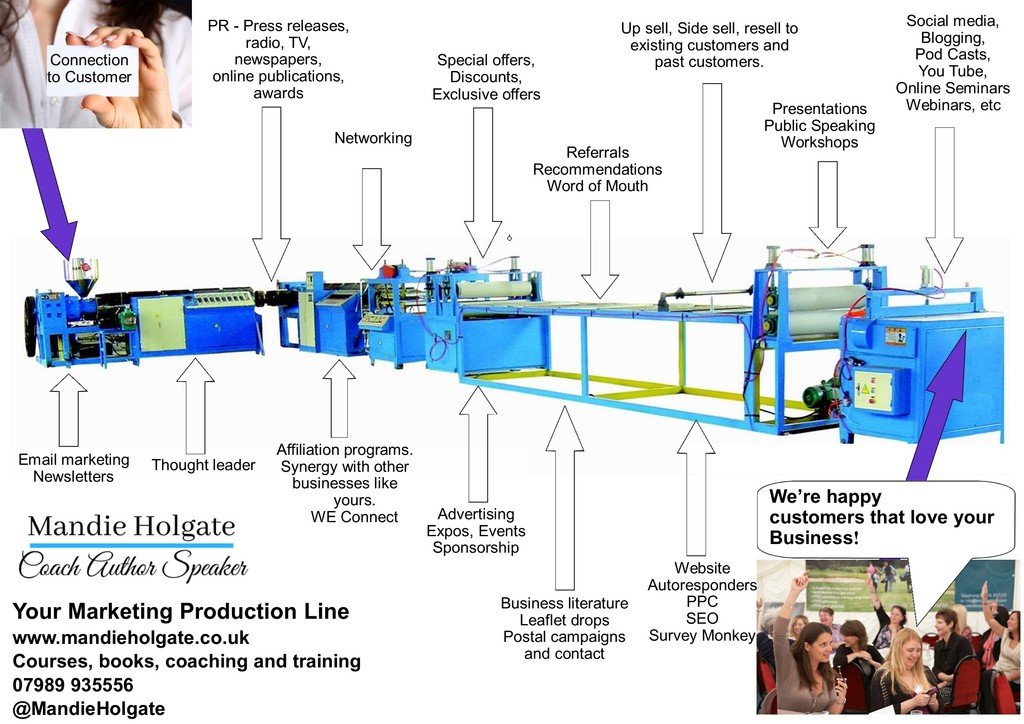 I love this simple tool for ensuring clients are selling well. Are they talking to the right people in the right ways to ensure they are interested, engaged and buying?
Does it ensure you are using the right words and communication to entice the right customers to you?
I want you too to hear those magical words my clients say "Mandie, it's like clients just magically fall from the sky." They don't there's a process and I help businesses, big and small find the sales strategy solutions for them.
I've been on holiday in August and sold tickets to events in December that I wasn't even promoting.
I've gained speaking engagements, coaching clients and even free PR opportunities and I've been sat in the hottub.
I even gained a book deal when I was not even looking for one – that is still bringing in profit years later with very little effort on my part!
To really simplify this process, if you are utilising 8 to 10 tools from the above graphic your business will be gaining new business, new enquiries, opportunities and even a book deal – well you never know, that's what happened to me.
I'd never share something I didn't know worked and I've worked with thousands of businesses to help them sell well, increase profit, engagement and sales so I know this works.
You can ditch the sales talk, and the trying. Get this right and your passion (Well actually your marketing strategy) sells your wares.
ACTION: So what tools are you using? And what are you just playing with? What are you consistent with?
Be honest.
You can download a copy of the Marketing Production Line (not for alteration or sharing) here.
This course looks at your marketing strategy in detail and trains you through modules to ensure you sell well. It can also help you get in the press, gain new business, get repeat sales, heck you could even get a book deal (I did!) this really works, its the backbone of so many clients marketing strategies in so many sessions. 
And if you are just reliant on social media – you could be leaving a lot of business for your competitors!
This course helps you understand who you are selling to, what you need to say to them and what makes them become customers – click her to learn more about the find your target audience course and get them buying here.
My courses work because they use the strategies I implement with clients businesses of all sizes. Like Nicole from Ace 24 Consultancy who increased sales to their ideal monthly target within 3 days, and reached the ultimate "let's think big" year goal in 3 weeks. (She really likes me!)
Or Mr X who asked for their first 6 figure contract – and got it.
Or Mrs X who went from part-time business owner to full-time company with offices and staff in one year!
I don't hold back with the tools and techniques for another day, it's all here, I just want you to succeed!
And if you want to hang out with me on a daily basis getting free advice, support and ideas – join my mastermind group here.
If you take action on this article and my Sales Mountain (this is great for helping you upsell and gain loyal customers) it would be great to hear what action you take – I love your business good news.