LinkedIn ideas to Success
Recently I've delivered social media training to the NHS Entrepreneurial Programme and some other companies (who wish to remain confidential) and I thought I'd share some key messages here for you to benefit from too.
When used right LinkedIn can do a lot for your success. Personally it has led to new clients, speaking engagements, PR opportunities, Awards and even being asked to write Fight the Fear for one of the UK's leading non fiction publishers, Pearsons. That book is now in 5 languages and is sold around the world!
I also know of one company who found investors for their product who handed over 1 million pounds!
Seriously if LinkedIn is a forgotten unloved CV to you, it's time to give it some love and get it working powerfully for you and your success.
 You can download your own LinkedIn checklist here

2. T.R.U.S.T –  5 styles of a 60 seconds elevator pitch to help you hone what you say and why you say it. (This can also make up the back bone of a 5 month marketing strategy to save you time and ensure you present a powerful brand no matter where people find you. There is a course that accompanies this – Supercharge Your 60 Seconds click here to learn more or take the course.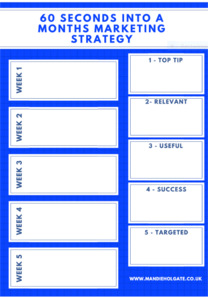 60 second elevator pitch worksheet
3. Marketing Production Line Course download your copy.If your marketing strategy is utilising between 8 and 10 tools listed on this worksheet you should be able to successfully engage with your target audiences, raise your profile, make sales, get asked to speak at events, retain customers and grow your business. Remember to be useful, relevant and interesting and monitor the results you get. Ask "What needs to change?" "What is not working?" etc. etc. There is an accompanying course which you can learn more about here. It could help you create a powerful structure and strategy to marketing success – without spending a sack of cash.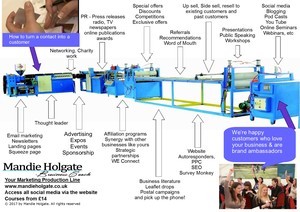 4. I host a confidential mastermind group for very busy professionals. Where you can research ideas, test out your marketing material, practice your video blogging, learn new skills, find solutions and gain mentoring and coaching from me too. It is £5 a month and I often give the Insiders additional ideas and support that I've created for clients too. You can learn more and join us here.