Lesson 4 – How to overcome your public speaking fear
Lesson 4 – How to overcome your public speaking fear
The thing about any fear is that it will grow if you don't deal with it. (Sorry to be so brutal at the start.)
The good news is that all fears can be controlled. Some need just a new way of thinking (mindset) and others need mindset and skill set (learning to do new things.) In my experience public speaking needs both. So to fix the fear of public speaking you will need to;
Learn from every lesson on this course the new skills, strategies and ideas and work out what will be best for you.
Get your head in order (see below in this lesson on some ideas on how to do that.)
Practice, practice practice – it is the most obvious answer and yet as that fear aims to rear it's ugly head and wreck your life again it will do it's best to say "No, don't speak again, you were awful last time!" ignore that voice. And keep going. No one gets good from just thinking they are good. Everyone has to have a go, hone their skills, learn more and keep going. So practice practice practice and keep going!
Now let's look at what happens with a fear;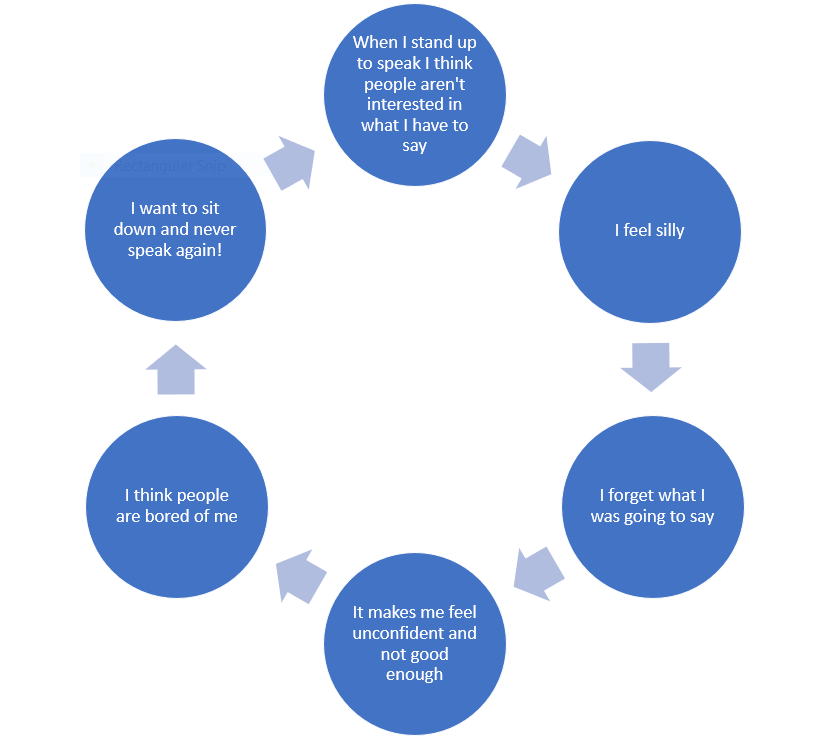 With every fear it will cause you to have feelings and emotions. And then these cause you to act in a certain way.
For instance if you think that people are bored of what you've got to say. You may then find you start to murmur or speak quieter. Then the audience may appear to be fidgeting because they can't hear you properly. then you may find that your nervousness is heightened. The fear has been reinforced not by an action from yourself or the audience, but from what you were thinking.
ACTION;
Download a copy of the above negative spiral and fill in the circles. Download here – Lesson 4 – what does my fear look like
You will find that you start with a way of behaving or an action in the first circle at the top.
That first circle leads to the next circle and you will write either a thought, a belief or an action.
For each circle complete what you usually experience. There is no right answer and there is no wrong answer. So if you experience 2 feelings in a row and then 2 actions that is fine.
Your spiral doesn't have to have 5 circles, it could have a lot more or a lot less. The point is that by visualising it you can start to appreciate what emotions are creating what actions.
ACTION; Challenge what you think
If we were getting to work together 1 to 1 as you create the negative spiral I would challenge you in your thoughts, beliefs and assumptions. Use this worksheet below to help you do this and create a new positive powerful way to think instead.
Lesson 4 Negative to positive copy of the worksheet to down load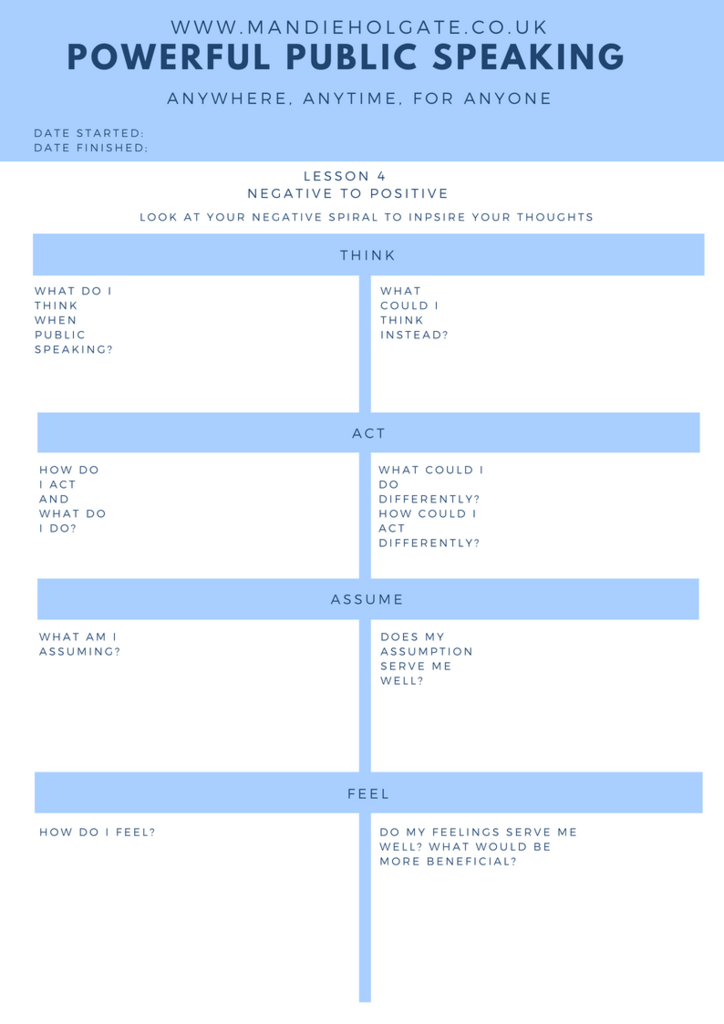 What you write in this worksheet will help you expand on what you noticed on the above negative spiral.
WORTH NOTHING; 
Both the above negative spiral and this negative to positive worksheet can be used on any fear, negativity or occasion where you find  yourself questioning if you are working in the most productive way possible.
Challenge yourself to notice what you are thinking about public speaking.
Do you assume the audience will hate you?
Do you assume what you have to say won't excite them?
Do you assume you will fluff up what you wish to say?
What beliefs do you have about when you publicly speak? Do those beliefs serve you well?
Use this worksheet to really understand how you act, think, feel and what you belief to be true (assume) so that you can complete the second side of this worksheet and look for what the opposite beliefs, actions, thoughts, emotions and feelings could be.
At this stage you don't need to know how you will achieve them. (This course will help you get there.) Just complete the form with the ideal positive results you would have.
ACTION; Now download another spiral and using the negative to positive worksheet from above complete this with a positive outcome. Here is an example for you;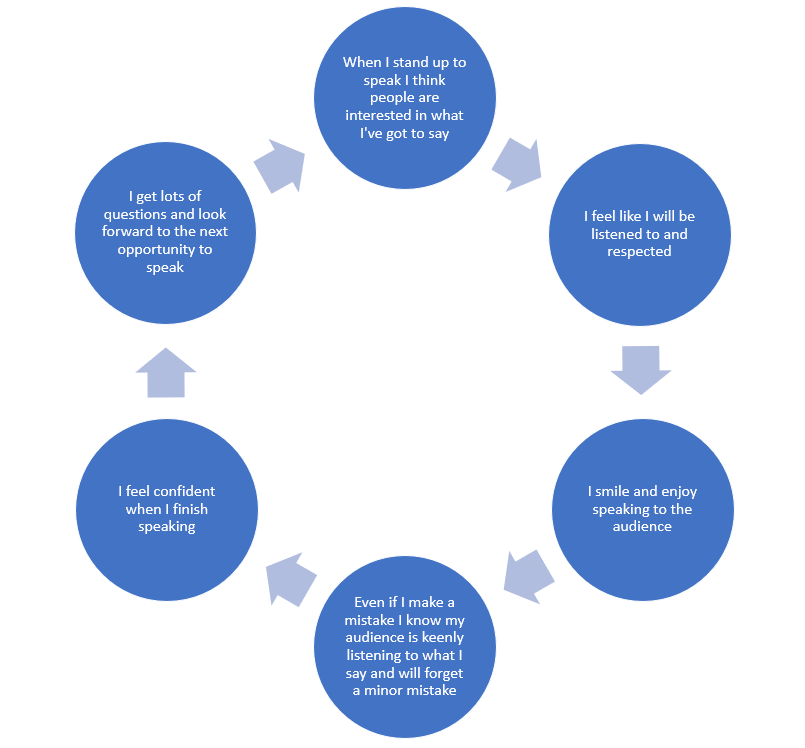 Notice how it starts with a change of thought (even if you don't believe that it is true) you are able to create a new spiral that starts by choosing to think something differently. (Don't worry you are not on your own now. Now we will help you work out how to hold onto that positive thought.)
WORTH NOTING; This can be used in any situation where you lack confidence, feel fearful, worry that you are trapped in a comfort zone or need to challenge yourself to think differently.
ACTION;
Think about you wrote in the first circle of your positive spiral. If you could do anything to achieve what is written there, what would you do?
I want you to list everything. For instance if we use the example above;
"When I stand up to speak I think people are interested in what I've got to say." We could create a long list of ideas, including;
I am good at my job and my clients love it when I share ideas to help them further.
When I stand up to speak I think of my clients happiness at the results they've got.
I listen to my favourite song that makes me feel happy before I arrive.
I mentally picture a time when I am truly confident and happy.
I wear a bracelet that reminds me of my children/dog/partner/friend and I feel loved and respected.
I remember the time I did something I never thought I could do and how brilliant it felt to succeed.
I wear my favourite outfit so I feel good.
I wear my favourite perfume so I smell fabulous.
I remember that I was asked to speak and that the audience will be keen to hear what I have to say.
This list can (and should) be a lot longer. Notice how some of the ideas are practical, ie, an action or a visual while other ideas are thoughts and feelings based?
What could feature in your list.
WORTH NOTHING; You've not been happy with your speaking for a while and if not happy, then at the least you've been desiring to improve your performance, okay? With that in mind don't expect that after your first speaking engagement on completion of this course, everything will be perfect. It is not realistic and puts a massive level of (unnecessary) pressure on you. However it is totally reasonable to (rightly) assume that you can perform better than you have before and revisit this lesson to hone the thoughts and feelings you need to help you adjust the actions you take.
HOMEWORK;
What visual clues do you need to create to ensure you think a positive thought before you speak?
What do you need to remind yourself before you speak that is positive?
How will you ensure you stay positive when speaking?
If you don't choose to think and act in a positive way what will you be agreeing to getting in your results as a speaker?
Who will you lean on or speak with to ensure you take action on this lesson?
RECAP; In your recap consider the importance of overcoming your public speaking fear and how it currently impacts on you.
Success!
Let me give you an example of a coaching client I worked with around their fear of public speaking, to inspire you into action (because I know this stuff really works);
Emily was a very successful CEO and had worked hard to carve out a career at the top of her industry. However she had hidden a 25 year phobia of public speaking behind encouraging her staff to speak in her place with words like "I think this could be a great opportunity to show everyone what you can do." The day came when Emily could not get out of it, Emily had been invited to open a profession wide conference of over 300 of her peers and the very best in her industry. As Emily explained to me it was only a 5 minute introduction however to her it felt huge and insurmountable. We used the above ideas to help appreciate that she was very confident in a phone conference and while it would have the same number of people on the call as were going to be in the audience it felt different. The realisation was that it felt different because Emily could see their faces and in Emily's head every person in that audience was judging her and thinking "Why is she up there and not me!" Emily was able to see that of the 300 people available to speak, it was ultimately Emily that was chosen. With this information on the incorrect assumption she was making, Emily pretended that the microphone was a phone (because that felt comfortable in her phone conferences) and so she pretended it was just "another conference call" instead of an audience of 300 people who wanted her job!
It went so well, by the time she climbed off of the stage she had been offered 3 more speaking engagements. And yes, just like I laid out for you in your homework for this lesson, Emily had someone she could lean on, her coach who she text just before she went on stage and just after. So that Emily could keep the right level of motivation.