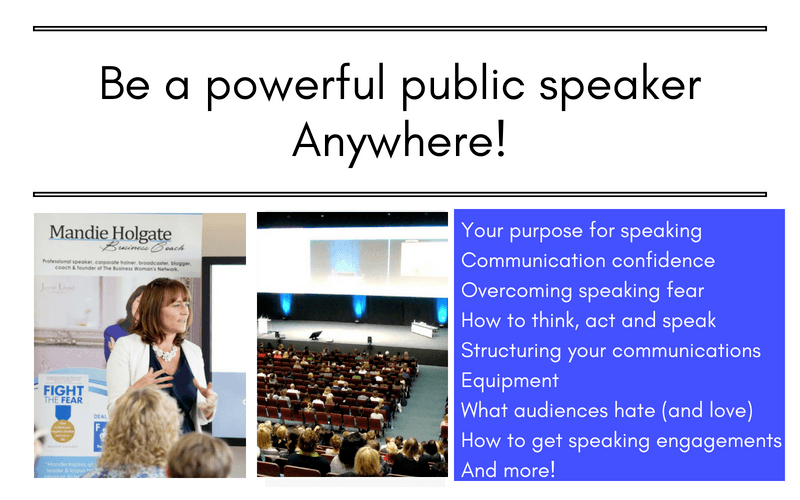 Be a powerful public speaker – anywhere, any time for anyone!
I asked my mastermind group "If I was to write another course for you what would it be?
Public speaking or blogging for business?"
Both received a lot of votes, although public speaking tipped the balance, and I can really appreciate why. Because if someone had offered me a speaking slot 15 years ago I would have laughed and run away, actually that's not too far from the truth because I had zero confidence and would even feign an urgent phone call rather than speak!
So, I know first-hand how paralysing, embarrassing and damaging it can be to success, but the good news is I know how to overcome that fear and become a well respected, invited back, "Wow your awesome!" speaker too and I've helped many many many people to do this too. (In a 1 to 1 coaching session in over 10 years of coaching I've fixed clients fears of public speaking in just 1 session. 1 Session and they are on the stage in front of hundreds and wanting to do it again. Would you like that?
Clients become thought leaders in their industry and highly respected key note speakers. As a successful speaker even if you don't wish this to be your main career or route to market it can still have a massive impact on your success.
A survey by Workforce Solutions Group found that 60% of employers say that applicants are not demonstrating sufficient communication and interpersonal skills to be considered*
Powerful public speaking is not just in front of an audience, how about in a sales call?
Did you know that almost 6 in 10 buyers want to discuss price on the first call and yet business owners can cite this as the thing they dread the most in communications!
Even if it's not your goal to be on the stage commanding an audience and you'd just like to get through a 60 second elevator pitch without wondering what you are talking about, why you are shaking or why you can't seem to stop talking gibberish this course could help you across the sphere of communication.
This is because powerful presentation skills can have a knock-on effect in your personal and professional life. I've seen it;
Enable parents to not take no for an answer when their children have been bullied at school and they've been given the "it's fine" talk from a principle, knowing full well it's not.
Stop people from being dumped on at work, because they've found their voice. Not a rude one, an incredibly respectful one. Giving them more time to get their own stuff done, because they are not polite people pleasers scared of offending anyone.
Give someone the strength to pick up the phone and find out why they didn't get the contract only to discover something more powerful and get a better long-term contract!
Stop a controlling partner from telling them what to do. (So, officially I've never caused a divorce although I've been a big Eureka moment to a few clients that have realised they've tolerated being talked to and treated in an unacceptable way.)
Change the way other people at work treat a client. A new found respect!
The list is long and one of the reasons I know my clients see lasting results (and I can fix a fear of public speaking) is because I work on many levels. In this course we will look at;
Lesson 1              –              Your purpose for speaking
Lesson 2              –              Building communication confidence
Lesson 3              –              Your natural style of communicating (and why this is essential)
Lesson 4              –              How to overcome your public speaking fear
Lesson 5              –              How to think
Lesson 6              –              How to act and stand
Lesson 7              –              How to breathe and speak
Lesson 8              –              How to structure your communications
Lesson 9              –              The right words (and the dangerous ones you shouldn't use – ever!)
Lesson 10            –              Equipment
Lesson 11            –              What audiences hate (and love) and How to have them hooked for hours!
Lesson 12            –              How to get speaking engagements
This course will look at your success as a speaker in a number of ways.
Your mindset and how it impacts on your fears, results, actions and audiences.
Your skillset and how to improve across the board to get a powerful response from your audiences, communicate powerfully and get the results you want.
This will incorporate my many years of knowledge, experience and research into the power of our mind over our ability to be successful speakers. I'm very excited to share this knowledge, and enable you to get speaking engagements of a lifetime or to just sit down after an elevator pitch and think "Nailed it!"…..
Course Content