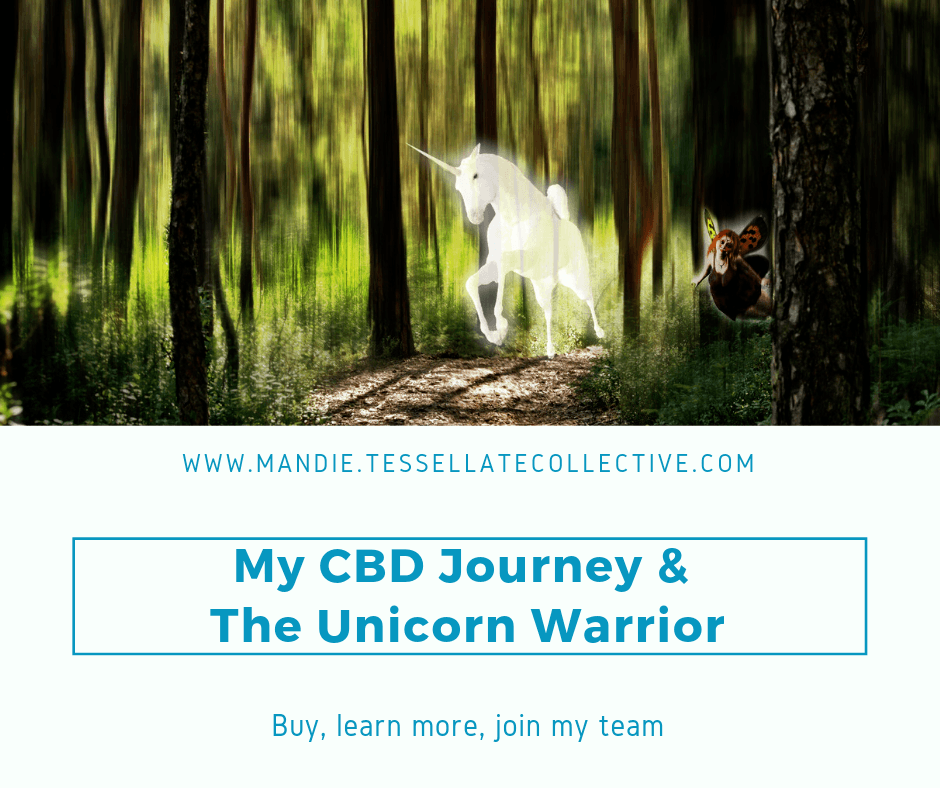 Not work related, but a story of my own journey with CBD and a Unicorn Warrior
This article is not work related but this is my "For fun business" that I started because I needed some help. I found it.
I quickly realised that the things I'd struggled with affect so many of my clients, from dealing with lack of sleep, to too much stress and anxiety to underlining health problems that impact on their ability to be successful in their personal and professional lives, so if you are looking for growth and success ideas you only need read the very last paragraph and then head to my blog articles for some free support. I will do all I can to support you….
So here goes, a very personal story….
People think I'm a bit of a rebel. I do muck around a lot and laugh more than most. It was once suggested this was because I lacked confidence and that was probably true back then, but not any more.
It was also probably a coping mechanism for dealing with the pain and exhaustion and tough Lupus, Fibromyalgia times, but not any more.
But in actual fact while I play and make people laugh (so they can get out of their comfort and deal with difficult situations) I'm not very rebellious.
(Okay I did skive off school – but even that was because there was nowhere to study so I turned up at home one day and explained to my Mum that I was bunking off school because I wanted to pass my GSCE's and there's nowhere to study – backfired on the teacher that phone my mum to question where Amanda was!)
But seriously I'm no rebel. In my 45 years on this planet I've never tried a cigarette and I've never tried drugs (the illegal kind) so to find myself a CBD oil advocate is a bit of a shocker, and I wanted to share why it matters so much to me that I share this story.
Back in the dark days of 2012 when I was pretty much living in the dark, curtains closed, wearing myself out by going to the bathroom and not even really eating because by the time I'd got downstairs I was too knackered to breathe let alone make any lunch. I was finding it very hard to stay positive. I did achieve this, but wow I had to work at it. And a lot of the time I couldn't even hold my phone let alone type. Regular emergency trips to A and E and hospital appointments was my days out. So on a good day I'd be on Facebook and met a Mersea lady.
We ended up messaging each other.
Sally told me about her cake business and shared some gorgeous designs. I told her that I'd had to quit work because I was too ill. And Sally was there for me.
Sally was selfless, she would message me just to ask how I was. No big deal right? However it was only after a while I discovered she had cancer, a lot of it. In fact it was so bad that they had given her months to live. I felt awful. Firstly of course for her and her lovely hubby Andy and there then very little boy. But then I felt awful because here I'd been dumping my moans and groans and pain on her, when she was going through something a billion times worse.
What an idiot!
I apologised instantly and Sally explained that helping other people helped her forget about what she was going through. I didn't look at her with "oh poor Sally" eyes, I only knew her as my friend Sally who was there for me when I most needed it and everyone else was off having a life.
Sally's diagnosis got worse and the Cancer squirrelled it's way in to so many parts of her body, but still she was there for me, then she asked me "how open minded are you?" You never know where that one is going do you?
"Pretty open minded….I think" I replied. "Well I've been importing this Cannabis from America and I think it's helping me. Would you like to try it?" She asked…
I know lots of people that rave about it, and a dear Facebook friend told me when I had stop working "Mandie get yourself a hottub and cannabis." Well I had got one of those, but never thought I could do the other – it just wasn't me!
Sally explained this was a product that looked like sticky Borvil and you just put a cocktail sticks worth under your tongue twice a day. Did it help?
Well Sally fought everything the specialists said she was capable of and lived for years. Sally fought like the true Unicorn Warrior she was and was there for me throughout most of it.
And I feel it helped me. When Sally finally lost her valiant battle against this ridiculously cruel illness my dealer was gone (not sure you'd call her a dealer – her Hubby would laugh at that!) But something that helped me was suddenly not accessible.
So that's where my journey started. I've tried very expensive brands, and very cheap ones – they are all the same right?
No, they really aren't and that's why it took me nearly a year to find a company that I would be happy to be associated with. My reputation as a business and life coach, speaker, Founder of The BWN and author is paramount to me and I was not prepared to jeopardise that in any way. So I was so pleased to discover a UK farm (Yes of cannabis) a UK lab, UK Funders and best of all they are intent on ensuring all of their advocates make no claims on what it can or can't do. (Go check out how illegal it is to be doing that, and yet so many businesses make claims all over social media on what their products will do – it's unethical too!)
So Tessellate is the one for me. And they just got even better because they are the ones leading the need to get the industry self regulated. Check out this press release on the shocking discoveries on the variety of quality and what is even in some of the CBD brands out there!
So completely off the business and success subject I usually cover, but hey it's all the same stuff right? You know me and my ability to find an analogy? Take the above;
Communicate well.
Listen
Apologise when you make a mistake. Even if you dread it.
Keep positive.
Do your research.
Never sacrifice your reputation.
Trust.
Look for quality.
Don't lower your standards.
Share your passion.
Even in a CBD story I get in there some business advice!
And if you'd like to explore CBD I will never make any claims on what it can or can't do, just help you start your own journey. And if you do, just remember all those I've so far helped is because of a lady called Sally, who is remembered with true love every day.
And the reason I started with Tessellate was not to sell it, just to get 25% off. Now my clients, friends and family are getting that too. Start your Tessellate journey here. I'm happy to chat anytime, however I will never make any claims. xxx